WERMA Light Towers
The CleanSIGN was specifically designed for high pressure/ temperature wash down in clean rooms and food processing applications.
In the food, drink and pharmaceutical industries, as well as in cleanroom applications, high demands are placed on hygiene. This applies to employees as well as machinery, equipment, and supplementary components.
The danger of food poisoning, contamination, and product recalls raises the pressure, increasing the need for reliable hygiene standards and rigorously implemented norms and guidelines. This begins with the construction and planning of new components and equipment.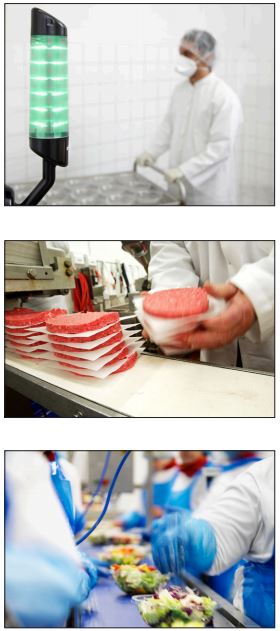 In addition to use in food production, manufacturing processes in cleanrooms are also potential application areas. The production and assembly of small and very sensitive parts such as electronic chips places the highest demands on air purity.
Thanks to its revolutionary form, its smooth surfaces and the materials employed, CleanSIGN meets the high requirements of Hygienic Design, thus making a significant contribution to the safe and clean manufacture of food and drink, cosmetics and pharmaceutical products.
The term, "Hygienic Design", stands for the hygienic and cleaning-friendly design of all machinery and components deployed in hygiene-relevant areas. The aim is the prevention of constructional weakspots that could increase hygiene-related dangers and the risk of infection.
Unique "Hygienic Design" Signal Tower